August 8, 2014 in Games, House of Tail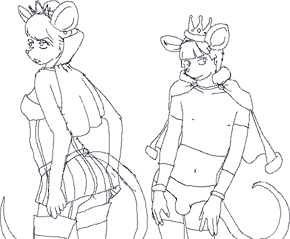 Princess Seraphina
Prince Noriel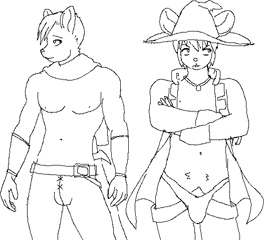 Royal Bodyguard Bartleman
Master Wizard Wiseluck
What would a fantasy rpg kind of game be without some royalty?
Here we have the prince and the princess, rulers of Branchland. Sort of. It's slightly complicated. You see, there was a war their kingdom lost and their parents died in it. Don't feel too bad, it all happened before they could even walk.
And what would royalty be without some servants to do their bidding? Bartleman is the personal guard of the prince, who seems to need it more than the princess. The royal wizard Wiseluck acts as the princess's advisor, who handles the affairs of the crown more than her younger brother.
Wiseluck is also your starting boss. And he gets his own chapter later on. You even get to help him with the mess that is his personal love life.



Future Updates Plan
The story is in draft mode, meaning we're making sure it all fits together and nothing stands out as 'out of nowhere' or breaks the tone/narrative. Because of this, the beginning will likely receive the most changes and reworks to line up with all the plot points later on.
Even so, we know you've been waiting for another update and we'd like to try to give you the tutorial and first chapter next. After that, it would hopefully be the entire story mode, complete with actual sound and music. Then comes a finished casual mode and extras, like an image gallery. And somewhere in there a chance to commission your own characters into the game.
Whew. Typing all of that makes it seem like a long ways away, but we're definitely getting there. This is going to happen!! No brakes on the game making train~