December 1, 2013 in Games, House of Tail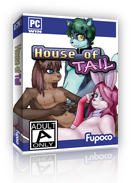 One month left to get in on the limited time discount!
Beginning 2014, House of Tail's price will double. This is your heads up!
We're currently drawing the main cast and working in the story. The story will probably be much more elaborate than I think anyone is expecting. Our goal is to give you fun characters and situations to get through, while not basing it solely around porn. It should feel more like a role playing game with porn, than porn with a token story. If that makes sense.
We also uploaded a new version that addressed a minor bug dealing with selling characters. And upon writing that, I realize we might need to give a good reason to sell characters or remove that altogether ^^;
Hope everyone is having a great holiday season~