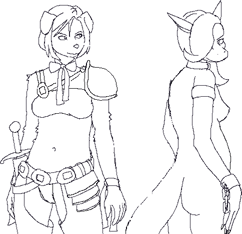 Barmaid Ex-Fighter Jacquelyn
Mysterious Servant Nabie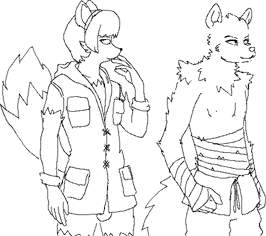 Librarian Healer Salvine
Gym Trainer Basio
Story character sketches — Batch 2 of 3, one more to go~
Jacquelyn – Former soldier who ended her career early to work at the town's pub. She's had enough of the adventurer's life. Unless, perchance something were to happen that might convince her to team up with you one last time.
Nabie – Why am I showing you her?! It's a secret! Forget she's here. She doesn't even live in the kingdom. They'd probably mistake her for a monster.
Salvine – Works at the library and hospital, and is the town's local healer. He's in a relationship with Basio, and Wiseluck despises him for it. Wouldn't it be funny if Wise needed his help and had to recruit him? Cause he just might.
Basio – Trains your characters at the gym. Is up for adventure if asked.
What does it all mean? We're crazy, for starters. And we're working in some variety to the game's setup. It will be an adventure, for sure. Has been one already in making it~ ha ha… ha ._.