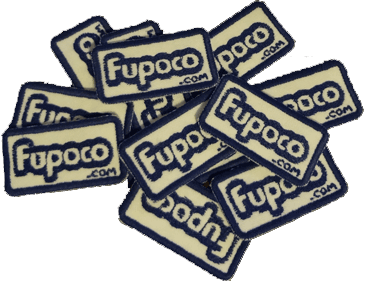 Cool vintage cut homemade patch magnets to be given away at FWA
FWA '14
We'll be away at the FWA convention in Georgia. Apologies in advance to anyone expecting a quick reply from our contact page. We will resume normal operations Wednesday 26th.
Thanks to Whry and his embroidery skills, we will have some official fupoco patch magnets to give away. I know it's a short notice, but we weren't sure if we'd have the time (or if it was even feasible) to make some until this week. Talk about last minute! ha ha…
Funny side note: the stitching break in the "o" in ".com" was at the top for some of them, which made it look like ".cum". Totally unintentional and not classy. I tried my best to fix them. I'm sure they could be collectible mistakes people can make fun of us with. We don't mind, it's all good and our goof.