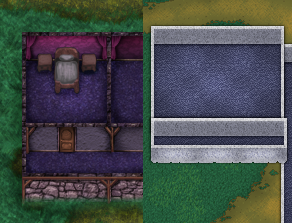 quick teaser: new vs old house graphics
RARE REAL LIFE UPDATE: been busy working on a roof. It's really hot outside. Speaking of HOT…
Development Plan
The ultimate goal is for you to have a finished game. Playable, polished, the whole shebang. To that end, everything else has taken a backseat, such as releasing more unfinished versions.
Currently we are updating the graphics and code to support a high resolution. We'll post a new version once that's done and notify everyone who has bought a copy.
Next will be working in the main game, which is mostly story and has already been written: scenes, dialogue, and all. We'll try to post new versions once we get chapters in place (no emails though, don't want to spam). But, fair warning: there won't be any polish or 'finality' to it. It's a first pass; things will be adjusted, added, and removed.
Next will be a pass for balancing, polishing, all that extra jazz that makes a game feel complete and fully realized. Music and most of the sound will likely be added here, along with most of the fullscreen 'intimate moments'.
Lastly one last pass to make sure everything is as it should be. Will finalize the title screen menus and casual mode. An email to everyone to let them know it's more or less finished. Fix up the website (long overdue.) And maybe some 'bonus' stuff after that. maybe.
So don't worry! Too deep to get out now~
The funny thing about this kind of talk is who cares once it's finished. Really is the goal.