Capre diem!
Plan your day, advance relationships, manage your stats, have sex with furry guys--you have one semester. Make it count.
* Adults Only *
8 characters to pursue with over 150 scenes
fully animated and interactive sex scenes
390MB worth of content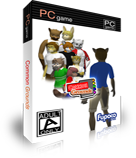 Windows PC
Direct Download - No DRM

System Requirements
View Instruction Manual
Troubleshooting
*Furry Dating Sim Action
Who will you go after? Buy the game and enjoy many hours of amusing scenes and decisions.

And thanks for checking us out and for your support! If you have any questions or concerns, please contact us.

Have fun!